How we can help your business
If you are in the business of delivering the news or relying on the news to make important decisions, you are faced with a flood of articles that you know very little about without clicking and reading them.

Ultimately, you need to sort through articles efficiently and in a way that makes sense for your business. We help publishers, aggregators, syndicators and news intelligence firms understand news more efficiently by showing the qualitative characteristics of each article. Our data lines up with other metrics such as clicks and shares, driving strategy for anyone who produces content or provides insight into content.
Because the data is there as soon as the article exists, even prior to publication, Overtone allows you to make strategic decisions at speed and scale.
IF YOU…
NEED INSIGHT ON CONTENT
Overtone scores the editorial properties of an article This adds fine-grained insight to any of your systems that look at news articles, from publishers and aggregators to PR to finance, education and governments.
Our data is an additional column in your spreadsheet or dashboard so you can differentiate between articles and treat them differently based on what they are, in addition to things like their engagement.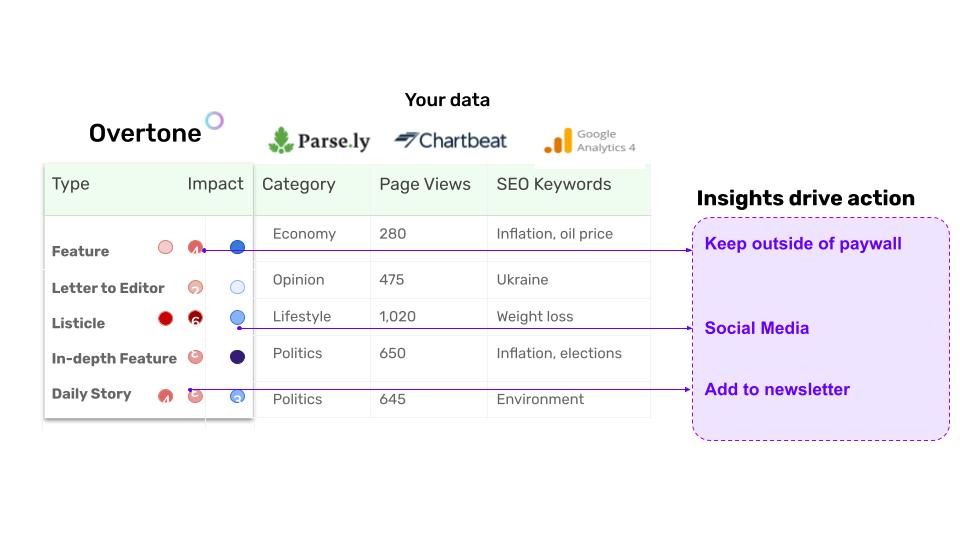 PUBLISH CONTENT
Overtone loves to work with publishers and content creators of all stripes. From editorial-focused use cases that streamline the work of human editors, to automatic systems that help make sure writers are getting the revenue they deserve.

LOOK THROUGH THE NEWS
In addition to providing our data wherever you need it, Overtone can also help surface news to you. Contact us about our Feeds product, where we gather news on a certain topic or keyword, score the articles, and then show you a selection according to your criteria.